GET A FREE ESTIMATE NOW!
JANSSEN PEST SOLUTIONS
IOWA'S AUTHORIZED SENTRICON OPERATOR FOR 20 YEARS!

Janssen Pest Solutions has been providing Sentricon Des Moines termite treatments to homes and businesses for over 20 Years! The Sentricon system is far superior to conventional liquid treatments. The Sentricon System installs quickly, was awarded the Presidential Green Chemistry Award, works 24/7 365 days a year, and best of all, kills the entire termite colony!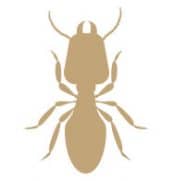 The Sentricon System kills the entire colony of termites. Using a chitin synthesis inhibitor to stop the molting process of termites, worker termites (responsible for finding food to feed the colony) upload the bait into the colonies infrastructure, killing all the termites in about 90 days. Once the original colony is killed, the always active bait inside the Sentricon System provides 24/7 protection from new colonies that may find their way onto your property.
Trust Janssen Pest Solutions to protect your home or business from termites. We provide termite control to Des Moines, West Des Moines, Urbandale, Clive, Windsor Heights, Johnston, Grimes, Dallas Center, Adel, Waukee, Altoona, Pleasant Hill, Ankeny, Ames, Boone, Carlisle, Winterset, Indianola, Knoxville, Pella, and many more locations around central Iowa.
DOES IT REALLY WORK ?
Sentricon is the only termite product that is scientifically proven to kill the entire colony!
WHO DID THESE STUDIES ?
Click here See more then 30 independent studies confirming Sentricon really works!
WHAT ARE MY TREATMENT OPTIONS?
GET A FREE ESTIMATE NOW!